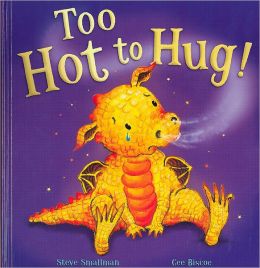 Too Hot to Hug
Steve Smallman & Gee Biscoe
This afternoon, I am welcoming a group of primary school children to their public library for Share a Story month. The theme this year is 'dragons', so I got to explore our collection of dragon picture books and find some favourites.
Too Hot to Hug is an adorable book about a dragon growing up. He is found in a cave by a young boy, who takes him home to his family. Crumpet the dragon is quickly adopted by the family, using his warmth to keep them all comfortable during the cold winter months - drying laundry, heating toast. But as Crumpet gets older, he gets hotter, until he is just too hot to hug.
As an adult, I love the subliminal messaging in children's books, and in this one, it isn't even subtle - the family find the best way to keep Crumpet cool is to have a bath, so bathtime soon becomes incredibly fun for all.
The illustrations in this book are brilliant, and those children who have already visited the library for a dragony story time have loved colouring in the pictures of Crumpet. He is a lovely, friendly dragon; perfect for Share a Story month.