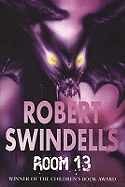 Room 13
Robert Swindells
London, Corgi, 1990, 158p
Room 13 is one of my favourite scary stories ever. Somewhere in my memory, the fiction has become mixed with my reality, so that I confuse the plot of this novel with some of the events of a residential school trip I went on in Year 6. So perhaps it wasn't the best thing to read a few days before another residential.
Inspired by and credited to a group of school children, Room 13 is a ghostly tale about a class of students on a residential trip to Whitby. The children arrive knowing rumours about Dracula, being suspicious of supernatural happenings, and end up caught in a web of mystery and horror.
The book is a perfect Gothic concoction. The evil is explicit from the first page, as we find ourselves with Fliss in a nightmare, which makes her unsure she wants to go away on the school trip. But as her mother notes, things seem better in the morning, and she departs with her classmates. It is only at night that her nightmare returns, seemingly turned into a dark reality in which she hears footsteps in the hall. At midnight, the linen closet along her corridor turns into Room 13, and one of her classmates is drawn there by an overpowering force.
Of course, the children are not believed by the teachers, so they find themselves regularly in trouble. But Fliss and her friends know they have to do something about the happenings in Room 13.
All fans of Gothic literature will recognise the tropes, but that does not take away from the brilliance of Swindells' writing. He gets right into your deepest fears, building the tension with mystery and suggestion. And the result is an unsettled night of sleep - exactly what you are looking for in a scary story.